"When I saw Émilie's work at The Other Art Fair I felt like I had entered a dream: a mix of vivid imagination combined with realness and depth. This Parisian photographer and designer captures emotion and the inner realities within us; exposing the darker moments of life with portraiture and graphic composition. We had a chat about the importance of emotion in her art, and what water means to her – since it is heavily featured in her photographs. I was also interested to find out the significance of her bright and bold series 'Red Sole'."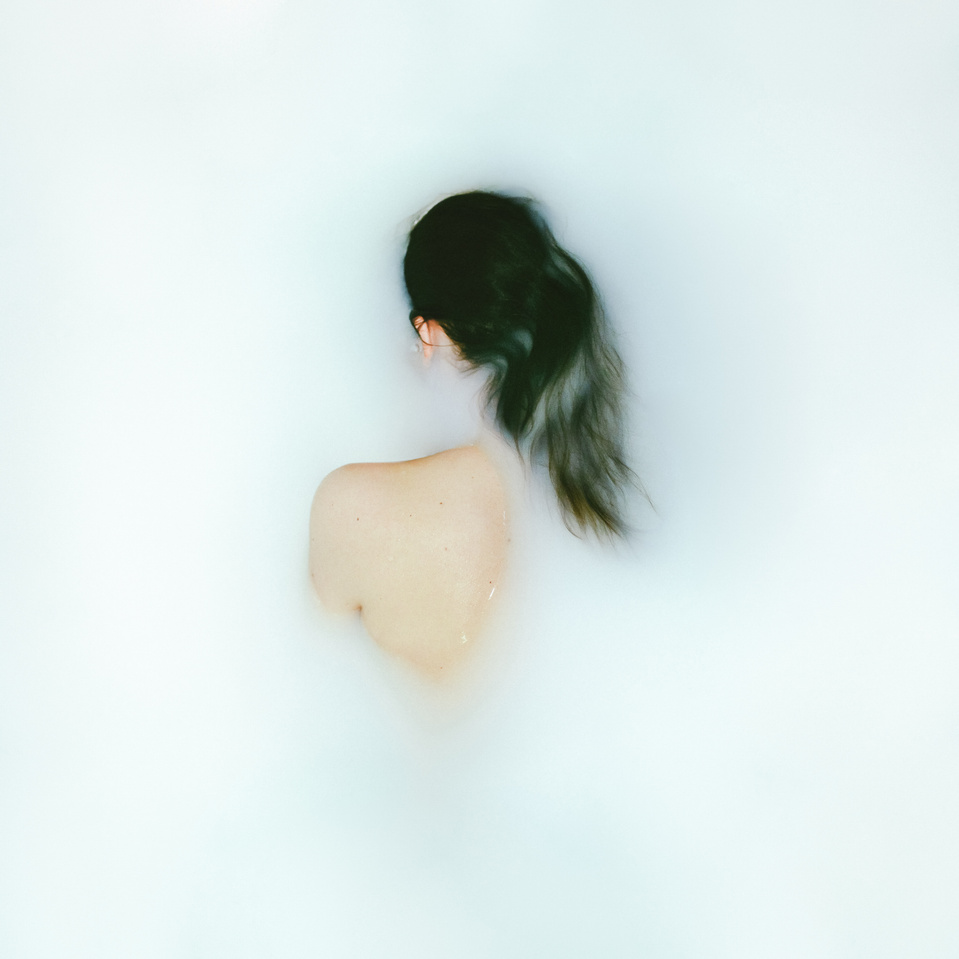 HOW DID IT GO AT THE OTHER ART FAIR FOR YOU?

It went ok, I made quite a few contacts including a gallery which looks promising so we shall see! It was a nice experience – as it was my first time in London, and my first time at an exhibition. London has a great energy.

TELL US ABOUT YOUR WORK, WHAT DO YOU MOST ENJOY PHOTOGRAPHING?
I like photographing humans, especially in portrait form. Above all, I am looking to capture emotion and graphic composition in my work. I like to capture love rather than nature on its own – it needs to have emotion, and I want to show something happening. I find portraiture interesting because it gives me the opportunity to portray the many faces we all have. And by combining this with conceptual photography and collage – it's like a painting. It's a process: from having an idea, to taking photos, creating a collage and adding layers of emotion throughout.
WOULD YOU SAY IT IS IMPORTANT FOR YOU TO CAPTURE AUTHENTICITY?
I like to capture the dark moments because they are part of life and nobody ever shows that. In france we are very expressive and we are not scared to show emotions. Sometimes you are sad, sometimes you are happy; and sometimes in life, we don't smile during the important things – we keep the hard stuff to ourselves. But art gives people the opportunity to show those emotions. As an artist, I want to show emotions by any medium; I want to show the inner reality within us as well as the universal emotion we all share.

WHEN I FIRST SAW YOUR WORK, IT FELT LIKE I WAS ENTERING A DREAM, AND THAT'S POWERFUL BECAUSE I FELT IT WAS FORCING ME TO ACCESS MY SUBCONSCIOUS. IS THIS WHAT YOU WOULD LIKE PEOPLE TO FEEL?
I love dreaming; I try and write down my dreams – so, I am trying to illustrate this. I think that when you meditate or dream, ideas come to you, good or bad. And it can bring up important things. I am a sensitive person who has a need to create. I don't want to create out of style; I just want to bring honesty to my work.
I LIKE HOW YOU COMBINE DIFFERENT PHYSICAL ELEMENTS IN YOUR WORK: NATURE, HUMAN BEINGS AND ARCHITECTURE, TELL US ABOUT THE SIGNIFICANCE OF THIS.
I like to portray emotions in my images – often a lot of loneliness – so, the human element represents this. The architecture arrives in the images to oppose the portrait, and to bring a graphic touch to the composition. I like to mix these different elements, I think that reinforces things. I am trying to mix my passion for graphic design, which is less about emotion and more about geometric design, with my passion for portraying inner emotions. My piece 'Ocean' for example, shows how I combined the two. I created this because people say I am small, so here, I wanted to appear big.

WATER IS VERY PRESENT IN A LOT OF YOUR PIECES, WHAT DOES WATER REPRESENT FOR YOU?
Four years ago, I lived in the South of France near the ocean. Water was an important part of my life; and I started to see that water changes every hour. So, I wanted to capture this. The lake where I lived was very pure, there was no one else around which was peaceful and undisturbing. From living so close to water I saw how the lake holds more of a feminine energy and the ocean holds more of a masculine energy – it puts everyone on an equal footing. The sensation of weightlessness and the nudity reinforces our feelings. I like the calm provided by the feeling of floating, it's like a suspended moment, a meditation.
HOW CAN ART RAISE MORE AWARENESS TO GLOBAL WARMING AND THE ENVIRONMENT?
I think that a collective awareness has begun, thankfully! How can we raise more awareness to people? I do not have the answer. I hope that new technologies will allow us to show people what we could become if we do nothing to aid towards combating global warming.

WOULD YOU LIKE THE VIEWER TO THINK ABOUT THEIR CONNECTION WITH NATURE THROUGH YOUR PHOTOS?
That is very important to me, but I can only do what I can. I created a photo recently with a giant iceberg. I created it thinking, what would happen if you were to look up from the beach and see a giant iceberg – I am sure that would cause a big reaction. But with my art I choose to focus on portraying inner emotions rather than having environmental aims in mind.

YOU HAVE CAPTURED MOST OF YOUR SUBJECTS WHILST THEY HAVE BEEN MOVING RATHER THAN STATIC, WHY IS THIS?
I love movement, especially in the hair; I find it timeless and feminine. It also brings anonymity, which I like. I find that movement tells a story: it presents a moment, a decision, a dance – many stories can be told through movement. It also brings an energy to the composition and involves the viewer. I also choose not to show the subject's face; I want the viewer to project themselves into the image, it's more powerful.

WHAT IS THE INSPIRATION BEHIND YOUR RECENT BODY OF WORK 'RED STOLE'?
My current projects are based on a touch of red. The Red Stole looks at minimalist compositions in motion. The subject remains anonymous, to allow the viewer to project themselves into the story. This touch of red is a wink to the heart (red), beating in each of us, alive. My dad's heart nearly dropped this summer. Fortunately, he is fine now, but you can feel this fear in my art. I was told many years ago not to use red because it's a difficult colour to work with, but I love it. I am currently reading the book, "Rouge Histoire d'une couleur" by Michel Pastoureau about the stories behind the colour red and it's many meanings. I like art history – it's been interesting to find out what red means in relation to religion, history and women.

WHAT ARE YOU CURRENTLY WORKING ON AND WHAT CAN WE LOOK FORWARD TO SEEING?
I still work as a freelancer in graphic design for companies. I have two art projects in progress, including more work for my series Red Stole. I'm also collaborating with a floral artist on a series of conceptual portraits. Each portrait will have a different message relating to the environment, humanity and femininity. This series will be exhibited in the new year – fingers crossed!

-
Merci @burntorangecity pour ta patience :)